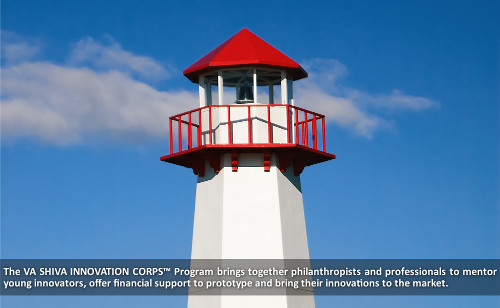 VA SHIVA INNOVATION CORPS™ is delighted to announce the 2023-2024 VA SHIVA INNOVATION CORPS™ Innovation Awards.
VA SHIVA INNOVATION CORPS™ program consists of various levels of support. The program starts with the high school students aged 14 to 18 years filling out an application form. The application should contain such details as student's name, address, school details, mentor's name (such as a school teacher or a youth program director locally in student's area), and the innovative idea that the student is seeking to develop into a practical business.
While a number opportunities exist currently for students in major cities, especially students of high schools affiliated with major universities, the Innovations Corps program rallies local support from philanthropists, professionals and businesses located in inner cities and villages for students in their neighborhood.
Award Recipient profiles are to the right. These young innovators will be serving as global ambassadors to Innovation with direct mentorship from Dr. V.A. Shiva Ayyadurai.
If you are a student of high school with an innovative idea, please submit your application for grant. A team of eminent entrepreneurs and business professionals will review all applications and select Young Innovators to receive the grant consisting of cash and services.
The program from Innovation Corps includes:
A $1000 Grant
An Award Certificate
Recognition on Website and Social Media
One-on-One Mentoring Session with Dr. Shiva